Engaging Men & Boys
We believe that men have an important role to play in ending violence against women and girls. With their positive influence and thoughts, men can change the culture that supports gender violence. Below are messages from a few of our male supporters.
If you are interested to write for this column, please email outreach@maitri.org
Abhishek Kancherla
Today, men and women around the world, particularly here in the United States, are living in a remarkable day and age. It has become easier than ever before for women to speak out against domestic violence and sexual assault, and this change marks an important milestone for gender equality. In order to end gender violence survivors are beginning to stand up for themselves and for others as well.
However, despite these transformations, domestic violence and abuse are still extremely prevalent, especially towards women. There is still much work to be done, and it is essential that we work together to ensure equality and justice for all. No one should be silenced or have their rights trampled on. I want to live in a society where women have the same voice as men. Everyone deserves to live a happy and safe life and in order to ensure this, men, need to support women's rights. Men and women should work as a team to achieve safety and human dignity for everyone.
Abhishek Kancherla is a senior at Interlake High School in Seattle, Washington. Abhishek loves photography and spending time with friends.
Aditya Rajendran
Domestic abuse, no matter how much we tend to ignore it, is a real problem. Having grown up in India, in a culture where women are expected to be servile, domestic violence or abuse, particularly amongst married women, is not very uncommon. I have seen firsthand the effects of domestic violence. However, domestic violence is not limited to one place or one culture. It is also prevalent in countries such as the U.S., where a significant portion of the population is estimated to have been affected by intimate partner violence or domestic violence at some time in their lives.
Domestic violence does not only affect women and children, men can be affected too, but statistically men perpetrates violence in partner relationship more than their female counterparts. Domestic violence also results in serious consequences. Victims are psychologically affected and can have long lasting trauma, even they can face serious health problems. Women are the backbone of our society, if they are abused then it is harmful for the entire society. It is all our responsibility, whether male or female, to stand up against domestic abuse and violence against women and ensure every victim is heard and supported. To have a healthy society, we must prevent gender abuse and violence. If all of us are aware about it and do something to prevent violence against women then one day, I'm sure we will see a difference. Let's think about this issue seriously and do something about it.
Adithya Rajendran is a senior at Irvington High School. Before moving to the Bay Area, Adithya lived in India and then in the UAE.
Aditya Kini
Kudos to the Maitri team for this initiative! We don't get an opportunity to reflect on the issue of domestic abuse/violence and this is giving men like me a chance to reflect on this important issue. While the request was to write about domestic violence, I think we should talk about the broader issue of "domestic abuse". Violence is one form, though an extreme one, of abuse. Verbal, emotional, financial etc. are other forms of abuse. I believe that if a person lives in fear of the actions of another person due to that person being in a position of power, it could be warning signs of abuse. For example, consider a situation where one of the spouse is working and the other isn't and the spouse who is earning does not provide financial assistance to the other in order to curtail his/her freedom. This is an example of abuse as someone who has more power is trying to control the actions of a domestic partner.
We can learn a lot from the success of the #Metoo movement from 2017/2018 and how it could relate to domestic abuse. The victims and the perpetrators aren't always obvious on the surface. Famous women like Ashley Judd, Gwyneth Paltrow and Asia Argento have been victims of sexual harassment in spite of their accomplishments and status. It took immense courage for the first few women to speak up openly that then became a global movement. In a similar vein, it takes courage for victims of domestic abuse to reach out to friends/families and more importantly, seek professional help.
Given that a majority of domestic abuse victims are women, men should reflect more on instances in their lives where they might have encountered examples of domestic abuse. This could mean challenging many cultural and patriarchal norms that they might have been accustomed to earlier. Also, we should speak up and act on if we encounter domestic abuse anywhere and not look the other way.
Aditya Kini is a happy go lucky guy who admires people who set their own paths and make a positive contribution in this increasingly complex, divisive world. He loves dogs, the outdoors and a good night out with friends over board games.
Alaap Murali
How can we change the norms that supports violence against women?
It was the ancient Greek philosopher Aristotle who first formalized the idea of tabula rasa, Latin for "clean slate". He believed that humans are born with an empty mind, and that it is the impression of their environments on them as they grow that lead them to believe and do certain things. This idea has lived through thousands of years and has made its way into modern psychology as nature vs. nurture, or the study of how genetics and the environments we grow in both affect our understanding of the world and our response to it. While research has shown that violent behavior can have footing in both the genetic and learned poles of this debate, several studies have shown that violence is most clearly a result of the environment in which we are raised. When it comes to violence against women, this means three things: first, since violence seems to be something that is learned, then it can be unlearned as well; second, since violence impacts children most directly through their environments, it follows that to change the norms supporting violence against women, we focus our energy on building the healthiest environments for the next generation of children; and third but most important, since violence against women is such a large issue today, the only way it could have been learned by so many people only means one thing: violence against women is part of our culture. This violence is taught to our children when we teach them culture.
Mind blowing, isn't it, to think that the cultural practices we grew up with as children subconsciously make us more likely to accept violence? How exactly can we use these three insights to change the norms supporting violence against women? The idea is to help our culture unlearn violent practices by investing directly in preventing these practices from entering the environments in which our children are raised.
The first stage of any unlearning process is realizing that what we have learned is not what we should have learned. This means identifying those ideals and practices we grew up with or noticed as kids that may not be the healthiest for our women. As we raise the next generation of children, our men and women both need to understand that a practice that is culturally acceptable is not necessarily a practice that is ethically correct. Just because a practice has been around for generations does not make it time-tested. Critics might argue that this point-of-view interferes with our responsibility to pass on our culture to our children, whether it is good or bad. They are sorely mistaken. Our responsibility is not to blindly pass on cultural practices because our predecessors did so. If this were the case, Germans today would have never realized the absurdities of the Nazis and would still be passing those practices on to their children. Confederate monuments in the Southern United States would still be publicly honored.
Women in India would still be burning themselves alive at their husbands' funeral pyres. Look at what is happening today in parts of Africa and Asia as a result of female genital mutilation- so many women are suffering because of an outdated, unspoken cultural practice. Years and years of history have proven to us that not all culture and history are to be celebrated. Instead, they must never be forgotten- this is very different from being celebrated.
Then, what is our responsibility to our culture and our children? It is to explain both the good and bad parts of our culture to our children so that they never repeat the bad and so that they carry forward the good. Our responsibility is to pass down our culture in an educated, open-minded way. Ultimately, we are giving our children the opportunity to redesign our practices in a way that can benefit their future and that of our culture.
Most education travels in one direction: from parent to child. However, educating our culture to unlearn violence against women must travel in two directions: it must be a mutual exchange from parent to child as well as from child to parent. Parents need to teach their children the history of the culture and its practices, as well as the reasoning behind why they are followed (versus blindly telling them to follow something). Equipped with this knowledge, children then must ask questions about these practices, provide their thoughts about them, and challenge them, giving their parents and the older generation an opportunity to reconsider or better explain those practices. Of course, a healthy exchange like this can only succeed if we foster a household environment in which open-minded and productive discussions are encouraged. This must be our focus as a generation, to give our children the freedom to challenge and redesign old ideas. It is in these environments that both children and parents can work together to identify outdated and dangerous practices like violence against women. Once identified, they can be filtered and improved to better fit the current generation.
You may notice that this process is very similar to the scientific method- while science itself is factual, the process of discovery is not- it is opinionated and iterative. Like science, the process of cultural discovery must be open-ended and evolving, spurred by creative ideas and discussion. This way, we are not trapped between culturally correct and morally correct ideas but instead constantly finding better ways to express ourselves as a culture. Let's pass this thinking on to our children and see where they take us.
Alaap is a technologist who has a deep interest in human rights. In college, he worked on several projects at the intersection of anti-human trafficking and computer science. He currently lives in San Jose and spends his free time working on similar projects, creating music, and volunteering.
Ambar Mishra
What is the definition of a real man? I believe that a real man displays their emotions openly. There. I said it. But how many people would respond to this if I said it aloud to a group of high schoolers? I would hear laughter and the word "weak" as response. However, if I said "real women show emotions", I would observe heads nodding in agreement. Why is that? It's a question I ask myself. After all these societal boundaries our communities have overcome, for example sexual orientation and racial discrimination, why can't society accept that a man can and should express his emotions? Why do I have to hide myself when I cry even though I live in one of the most "open minded" places in the country? These are questions I ask not only to you, but also to the world. This isn't only limited to emotions, but body shaming and gender expectations as well. There are many aspects of this toxic masculinity that have affected my personality.
Throughout my high school experience, body shaming was a common form of pleasure for boys who wanted to look superior to others. I have been a victim of body shaming, where I was taunted for a bulging belly or chubby chest. I felt afraid of wearing my favorite shirt or taking my shirt off at the beach because I was labeled as "fat" by others. This is where I learned that labels, no matter if they're positive or negative, can deeply affect one's emotional state.
It took me two years to gain confidence to wear a tight shirt and be confident with my body. I was encouraged by my friends to face my fears and I did. I became motivated to be proud of who I am as a man. However, it wasn't always easy. With no clear social manual on how young men should confront their bodies, I wrote down on a piece of paper, the reasons why I should be comfortable with my body.
As I was writing, I realized how all of my qualities went against the "bro code". I wasn't aggressive or brash enough to make sexually suggestive jokes towards women. However, many of my male classmates had these qualities and were able to "fit in" their social groups. Instagram and Snapchat clearly showed examples of how men openly abuse women. As I searched through these social media pages, I saw many men following and liking posts with sexist comments. They replied back with references to the "bro code". Then I thought to myself, is this how men are motivated to abuse women? Do men commit domestic violence or perpetuate violence against women because of the pressure of the bro code?
When I see news of violence against women that is taking place in different forms in different places I feel frustrated. I wonder what is stopping all men to stand up against violence against women or sexual harassment. Why do many men avoid the topic? I know many men support many domestic violence organizations, but do they stand up and protest whenever their peers, friends and family make a sexist comment? All of these thoughts were in my head and I felt an urge to take action. I concluded how social media plays a significant role in our attitude towards women. I disagreed with how movies, media and TV shows depict ideal gender roles and portrays
women as mere object.
However we cannot underestimate the positive side of using social media. Social media can be a positive tool to utilize for voicing out our opinions against sexual abuse and other forms of abuse and violence towards women. Men and women have the potential to make the #METOO movement stronger with more projects being launched in our community. Since I have a voice, why not use it to the maximum potential? I'm not ashamed to protest violence against women and girls on a social platform. I'm glad that I was given a chance to express my thoughts on this topic and I hope my write up will motivate many men and boys to do the same. Unless we talk about it, we won't be able to solve the problem.
Ambar Mishra serves as co vice chair for the Fighting Discrimination Committee at Agents of Change. He is an advocate for equality and hopes to spark new projects to raise awareness towards domestic violence and toxic masculinity. Currently, he is a senior at American High School where he serves as senior class senator.
Ameya Ingawale
"Domestic violence", the word itself sounds so scary! General perception is: "it's the sort of thing that happens to 'others', our family members and friends could never be abusers, no way! All the men in our families are good men. They cannot be abusive. Only drunkards, junkies or bad people can abuse their partners or family members"…. right? But that's a false assumption!
Domestic violence can happen to anybody and in any family. Sometimes it is so covert that we don't even recognize the abuse. A person (read 'man') getting angry and punching the wall- is a form of abuse. It makes the other person (read 'woman /child') scared, they can see that the first person wanted to punch them, but chose to punch the wall instead. It can be painful, humiliating and agonizing experience for someone. A person getting angry, and smoldering silently, with an implicit threat of violence is indeed an abuse. Domestic violence / abuse can have several shades that sometimes not even clearly perceived as "domestic violence" while the act or attitude can have enormous negative effect on someone's physical or mental wellbeing.
Sometimes one partner in a relationship hugely control another partner's finances by depriving the financial needs or restricting access to someone's own income and this form of partner abuse, is a real one. A partner insisting on knowing and approving what friends the other partner can have, whom they choose to socialize with, when and how they do it etc. is another form of control or abuse. It restricts someone's autonomy. Or forcing an intimate partner in unwanted sexual activities or inflicting emotional abuse are abuse too. Many times these forms of domestic abuse are not visible so we don't talk about it. Sometimes even we don't realize that it is abuse because of our cultural conditioning.
We need to understand that abuse doesn't always represent a black eye or broken bones. It can be invisible and unrecognized. Often we, men don't even realize that our action, attitude or words can cause pain. I think men have big responsibility in preventing domestic violence and abuse. Men need to have a deeper understanding whether our actions or words are causing any harm.
*Ask your partner if they've ever been afraid of you. And if they have, then change your attitude and actions.
*Ask yourself if the 'fight' was an equal one, or you always had the physical advantage. If yes, CHANGE!
*Have a healthy communication with your partner, listen to the other side, and change yourself if you ever made your partner sacred!
Ameya Ingawale is an eye surgeon. He was born and raised in India. He enjoys vacationing in different countries.
Andrew Anguiano
Men don't cry. Men are tough. Men don't take no for an answer. As men, these are expressions that have been drilled into us from a young age. I remember being scolded as a young boy for crying and never learning what healthy communication and expression looks like. We permit boys to express anger and take up space, to speak in crude and aggressive ways about women and sex, to think of ourselves as distinct and fundamentally different from our "emotional" female counterparts.
When we raise our boys as aggressive and emotionless, we directly support and contribute to rape culture in the United States. Rape culture is a culture in which women are objectified as sexual objects while men are expected to demonstrate hyper-masculinity and dominance. It is a culture that normalizes sexism and blames female survivors for their sexual trauma.
In the United States someone is sexually assaulted every 98 seconds, and men commit most of these acts of sexual and intimate partner violence. We can do better. As a society we need to hold boys and men accountable for their actions. We need to teach boys and men to honor and respect boundaries, to communicate and express ourselves in healthy ways, and to treat women and everyone in our lives with dignity. Violence against women is a men's issue. It's my issue.
Andrew Anguiano lives in San Jose, California. He is an educator, feminist, and advocate for survivors of sexual and intimate partner violence.
Ash Kalra
Over the years, we have seen awareness of domestic violence on the rise, and an increase in cases involving role models, celebrities, and people in our own communities. Domestic violence is a sensitive topic of conversation, but it is something that is pervasive in all communities, despite their education, age, economic status, sexual orientation, race, gender, religion, or nationality. Each day, women and men become victims of domestic violence, which includes physical violence, sexual violence, psychological violence, and emotional violence. As a community, it is important to come together to bring awareness to reduce the number of victims that fall into abusive relationships, especially for those who lack the voice.
Domestic violence impacts all communities regardless of wealth or education, which threatens public safety and health. Many people don't know the signs of abuse, and in some cases, the abuse goes unheard until something life threatening occurs. This not only affects the individual but it also impacts their family, friends, and community.
However, men tend to be the aggressors and perpetrators in most domestic violence cases. Men have the opportunity to break the cycle, and the most effective way to is to take responsibility for our actions and recognize that many of our actions, including our silence, contribute to a culture of male aggression and abuse. As an elected official, I am asking men to start with addressing their own behaviors and attitudes to stop the violence in our communities. By recognizing our individual responsibility and accountability for our behaviors, we can begin to change the way men behave and interact with one another.
In November 2016, Ash Kalra was elected to represent the 27th Assembly District, which encompasses downtown San Jose, East San Jose, Evergreen and parts of South San Jose. He is the first Indian American elected to the State Legislature. Ash is a passionate advocate for environmental protection and has been recognized as a leader on issues surrounding sustainability and conservation. See more here: https://a27.asmdc.org/about
Balakrishnan Sundararajan
To start with, I would like to congratulate Maitri for this wonderful initiative! Every day in newspapers and news channels, we come across various cases of domestic violence and sexual assault and for one reported case of domestic violence, there are 50 others which go unreported and this sets a very disturbing precedent. If we talk about India, there is a huge rural base as well as a huge urban population and if you think that domestic violence and sexual assault are confined to the rural base, you are wrong, it is deeply entrenched in the urban mindset as well.
What is our typical reaction when we come across these types of news articles? A sense of anger and frustration grips us and we start blaming the administration for all of this. But have we ever taken a pause, a step back and done some introspection as to why this happens and how we can "nip it in the bud". Sadly No!! If it happens to others, it is worth condemning but if we are the perpetrators, then we rationalize to make ourselves feel better. Before I go any further, I would like to emphasize that I am not localizing this problem as India-specific, it is a malaise that has gripped the entire world across various sections of society.
Violence in any form is condemnable, whether it is domestic violence or sexual assault or molestation. It does not matter if the victim is an adult or a child. It is not a women's issue alone even though it must be admitted that a majority of the cases are related to women's abuse. What is very surprising and alarming is that most of the perpetrators and victims are well educated and aware of social and cultural norms.
How can we change the culture that supports domestic violence, sexual assault and violence against women?
While trying to answer this question, my mind went back to Dec 2012 and the horrific Nirbhaya rape incident. There was a hue and cry all around and people were clamoring for the rapists to be hanged. Few months passed and those rapists were interviewed and asked if they felt any remorse and they said they felt none. They said that the girl was going out with another boy late in the evening and deserved this punishment.
In 2016, I came across a piece of news in Australia where a guy was stalking a girl and when she refused his advances, he killed her. What was surprising was that it was mentioned as a hate crime initially and later on, after detailed investigation, the real story unfolded.
In both cases, the victim was a "woman", for no fault of her own. If you thought education made people think otherwise, think again.
They say charity begins at home. The same way, if we have to accept and change this culture, we should look ourselves in the mirror and realize that it is important to educate the boys and men in our lives about women not being commodities. Everyone has every right to live life the way they want. The world has seen many changes and both men and women are equal shareholders in society now. Let us not view them through our prism of old thoughts.
Sexual assault and domestic violence sadly, is not just confined to couples, it has found its way in relationships which used to be revered before (Like Uncle-Niece, Uncle-Nephew to say a few).
So when your child comes to you next time and says something, don't ignore them and don't sweep it under the carpet. Listen to him or her (Yes I mentioned the word him also) and face and the bully head on. The psychological impact of an abusive relationship in any form is catastrophic.
In most cases of domestic violence and sexual assault, the perpetrator gets emboldened when the victim does not react and instead, tolerates it each day for reasons best known to them. We should not allow this to happen.
We need to be proactive and not reactive.
Always remember "Never forget that walking away from something unhealthy is brave even if you stumble a little on your way out the door".
Bala is an Amitabh Bachchan fan often imagining himself as "Shahenshah" who single handedly fights all his evils (like his idol). He is also a toastmaster who loves speaking and interacting with different people and if this is not enough, he is an avid cricket fan and a "Harsha Bhogle" fan. He believes that "FEAR" should not be "Forget everything and run" but "Face everything and Roar".
Basava Jonnala
I haven't experienced domestic abuse first hand but I have close friends who have had experienced abusive relationships. I've seen many people use threats of self-harm or emotional blackmail to keep their significant others in control. Abuse may not all the time physical, it can be mental or psychological abuse. In today's digital age, dating violence can be perpetuated through technology. Many times victims of emotional or psychological abuse, feel trapped and find it difficult to seek help. This toxic behavior, in the end, may escalate to physical violence and other forms of abuse. Partner violence is a serious problem that is harmful for the entire society. It is high time all of us especially youth talk about this problem and try to find a solution.
In my opinion, to prevent partner abuse or toxic relationships we have to work as a group. As friends, family members or even as strangers we need to support someone who needs help. We have to create a sense of community ownership to this problem, we must try to identify the social conditions, language and actions that instigate partner violence. Unless we engage our entire community in raising awareness, we cannot stop this epidemic.
Basava Jonnala is a recent college grad.
Bob Wieckowski
Maitri is an invaluable ally bringing peace and comfort to the lives of local residents!
Recently a high school journalist asked me about the #MeToo movement and some of the steps that should be taken to prevent future harassment and assault of victims. After outlining changes undertaken in the Legislature, I emphasized the need, especially for men, to set a good example at home and by calling out unacceptable remarks and behavior.
Creating a supportive environment based on respect for others, and setting a positive example for children, can prevent inappropriate behavior.
Unfortunately, too many men were never taught how to manage their emotions and lash out at those around them, including family members or their partners. Bullying, harassing and abusing others is unacceptable behavior whether it occurs in the workplace or at home.
Domestic violence brings horror into homes, terrorizes families, including children, and disrupts the daily lives of people from all walks of life.
Domestic violence does not discriminate. It does not care about your race, your ethnic background, where you live or how much money you make. It is an equal opportunity offender.
Its best friend is silence. Silence allows it to continue and to strike at any time.
Survivors cannot afford to be silent and we cannot afford to ignore their pleas for help.
Funding more resources to prevent domestic violence will lead us closer to a day when more families can live in peace and in a safe environment.
As a state legislator, I have successfully authored legislation, supported by the California Partnership to End Domestic Violence, to ensure the safety of DV and child sexual abuse victims in custody disputes, and to help protect survivors from having to pay spousal support to someone who pleaded no contest to domestic violence during a plea bargain.
I am also proud to have fought for increased funding for our legal aid providers who also provide so much assistance to domestic violence survivors.
Partnering with the legal aid community, I helped lead the effort to provide the first increases to the state's Equal Access Fund. With these additional funds, some legal aid providers expanded domestic violence prevention services to disadvantaged communities and installed hotlines in multiple languages to increase access.
Many victims are afraid to reveal the violent details of their private lives and abusers prey on this fear. One tool they use is the threat of cyber retaliation – posting intimate images of the victims online if they speak out or seek help from law enforcement or a shelter. In this digital age when almost everyone has a cell phone and a social media account, this threat is real.
That is why I worked with cyber civil rights attorneys and law enforcement to successfully author two bills allowing victims to take legal action using a pseudonym in all court documentation and proceedings in cyber retaliation cases.
My first bill, AB 2643, approved in 2014, created a private right of action to bring civil liability to an abuser for the non-consensual and intentional distribution of intimate images where the victim had a reasonable expectation of privacy. My second bill, SB 157, strengthened the privacy protections by excluding or redacting all online identifiers of the victim, including social media profiles, email addresses, IP addresses, usernames and telephone numbers.
These laws ensure that victims will not be re-victimized when they take legal action against their abusers.
California, and the Bay Area especially, thrives on diversity. But if service providers are not culturally aware and do not have staff that speak multiple languages, this diversity can make victims feel more trapped and alone, not knowing where to turn for assistance.
Fortunately, our region has access to capable and compassionate organizations with trained domestic violence prevention professionals. I have honored some of them before, including Safe Alternatives to Violent Environments and Ruby's Place.
With its comprehensive services to the South Asian community and people suffering from domestic violence, cultural alienation, human trafficking and emotional abuse, Maitri provides a vital service for those in need.
California has worked hard to spread the word about domestic violence, and to raise awareness of teen dating violence to educate people and better protect the next generation.
The best long-term solution is to make the investments at the local level so help is available and accessible and can put people on the path to healing.
Maitri is an invaluable ally bringing peace and comfort to the lives of local residents.
State Senator Bob Wieckowski (D-Fremont) represents the 10th District, covering parts of Alameda and Santa Clara counties. He was elected to the state Legislature in 2010 and has served in the Senate since 2014. Senator Wieckowski serves on the Judiciary Committee and is a strong advocate for domestic violence prevention, and a legislative leader on access to justice issues. He graduated from the University of California, Berkeley and Santa Clara University Law School.
Felix Joseph
It is important for all of us to become part of the solution to end widespread violence and discrimination against women and girls.
I think most importantly it starts with the people we influence, whether that be our friends, family, or sometime along the road, our children. If we bring up people in an environment that not only respects but treats women as equals, then we are all better off as a society. This includes eliminating sexually charged or violent language that music, TV, and several forms of media are throwing at us on a daily basis. This exchange involves males as well as females. Men must make conscious effort to eliminate discriminatory and abusive words from their language, and women must protest adequately to instances where this occurs. Now, this is where we run into the problem of being "too sensitive". Many times we have seen incidents of victim blaming and lack of support toward people who report abuse. Powerful politicians and community members sent out such messages that compelled many victims to be silent. We live in such a "he said / she said" age where it is almost impossible for victims of violence or discrimination to come out and tell their stories. They're always judged for being selfish or wanting to take advantage from the abuser or the situation. This makes no sense to me as a man who hears both sides of the story. This exact same issue happened in the recent Kavanaugh Confirmation hearing. Dr. Ford's coming out and telling her story was of no personal gain to her. Dr. Ford has accolades and plenty of years of experience and tenure, but yet she was not believed because she is a woman. If she was a man, she would be believed as soon as she said a word. This is the sad truth of today's society. We fail to hear both sides of the story. It is important to hear victims. It is important to trust them.
It is necessary to build a society that are just for all genders. There should be no excuse for gender abuse and violence. I hope we will be able to end gender discrimination and abuse soon. It starts with the young men and women of our generation who make it their mission to actively promote equality and treat both men and women with kindness and respect. We can't continue to tolerate hurtful language and actions against women and girls.
It is not too late to bring the change! Let's work on it.
Felix is a senior at Georgia Tech studying Biomedical Engineering. He loves keeping in touch with friends and reading books in his free time.
Gagandeep Chandiok
I think living in a country like India, everyone has seen some form of misogyny and predatory behavior in action. For instance, every woman has experienced eve teasing that happens on a daily basis in buses, metros and even in corporate life. More disappointing is the fact that girls and women themselves have accepted it as part of their lives. Women tend to ignore it even if those lewd comments bother them emotionally. I have seen that parents don't let their daughters go out after 8 PM, they are scared when their daughters travel by public transport alone even during the day and I have also seen that most parents would not like their daughters to wear clothes that might get unwanted attention from perverts. The point that I want to make is that a lot of the brunt for preventing misogyny and predatory behavior lies with the parents of the future generation. They have to make their daughters strong, instill self-esteem into them to raise their voice against these acts. Having said that, I think that the root of this issue lies in illiteracy as well. I think men need to be educated by their parents to respect women. If their boys make a casual disrespectful joke or comment about girls, they should be condemned for it.
We, as a society, make movies, TV shows and even songs that objectify women and no one objects to it and this is precisely the reflection of how casually we have accepted predatory behavior and misogyny.
On a more optimistic note, I think there are steps being taken as a society to prevent violence against women. One of the examples is a worldwide #meToo movement that went viral when women finally got the courage to stand up against sexual assault and sexual harassment at the workplace. What was great about the #meToo movement was that you could see how one woman standing up against sexual assault empowered other women to do the same. And I would like to believe that it made men realize that they are not exempt from predatory behavior no matter how rich or famous they are. #meToo movement also opened our eyes, as a society, to realize that sexual assault and sexual harassment is deeply ingrained in our culture and we have to come together and fight against it with open-mindedness, courage and determination.
Gagandeep Chandiok is a software engineer working in San Jose, CA. In his free time, he loves to read books and go on hikes.
Greg Dini
We have heard about the word "Domestic Violence", but do we know what it really means or the huge impact it creates? Domestic violence doesn't only affect survivors but it also harms others around them directly or indirectly. Although it is a form of abuse that occurs between intimate partners but usually children and other family members get affected too. Studies have shown that children who are exposed to domestic violence are far more likely to become batterers themselves later in their lives and the cycle continues. They start thinking that violence is normal in any relationship. We cannot let this happen. All of us, men and women in unison must work in prevention. Domestic violence is a community issue and all community members must involve to eradicate it.
The earlier police get involved in a DV situation, the sooner the healing process begins, and resources can be tapped into. Do not suffer in silence, report the abuse. There's counseling available for everyone, including the batterers. If domestic violence continues without some kind of intervention, then there is a high chance that the survivors will be seriously injured or even be killed and the children will be exposed to it for a longer period of time.
It does not matter who you are or where you are from, committing domestic violence is a crime. If someone is hurting you or if you see someone is getting abused then call 911 or contact your local Police department to report the incident.
Greg Dini is a detective of Missing Persons & Domestic Violence Unit of Morgan Hill Police Department (https://www.morgan-hill.ca.gov/129/Police ).
Hamed Yaghoubzadeh
"The number of American troops killed in Afghanistan and Iraq between 2001 and 2012 was 6,488. The number of American women who were murdered by current or ex male partners during that time was 11,766. That's nearly double the amount of casualties lost during the war." (Source: https://www.huffingtonpost.com/2014/10/23/domestic-violence-statistics_n_5959776.html). This statistical data is enough to show how serious an issue domestic violence is even in a developed country like the US. If we look globally, we can see that 1 in 3 (35%) women have experienced physical and/or sexual violence in an intimate partner or non-partner setting in their lifetimes, according to the World Health Organization (WHO). Domestic violence is not just a problem in developing countries or paternal societies; it is everywhere, in every country and every family, even educated and wealthy ones. The only difference is that in some cultures it is just more apparent than in others. In fact, domestic violence follows the same pattern of relations, which can lead to violence in any society, control and power.
Studies have shown that people with abusive tendencies generally turn violent when they feel out of control. Here are some situations and scenarios that can cause a person to perpetrate domestic violence:
1. Childhood experience: children raised in environments where violence, assault and abuse are common will often come to believe this behavior is normal and therefore find it difficult to establish and maintain healthy relationships in adulthood (Source: http://www.safelives.org.uk/practice_blog/living-domestic-abuse-ace-adverse-childhood-experience).
2. Major life change: many cases of domestic violence happen during a major change in a perpetrator's life. A family member diagnosed with illness, pregnancy, separation, or depression are all high-risk circumstances in which the perpetrator may feel left out or neglected and therefore looks to find control in these situations.
3. Economic circumstances: any economic crisis can lead to a higher level of stress at home. This is fuel for domestic violence. Financial difficulties can also limit options for survivors seeking safety or escape. Studies have shown there is a strong inverse relationship between financial status and a woman's risk of being a DV victim. However, this does not mean that middle-class and wealthier women are immune to DV; the observed relationship may be due in part to the ability of middle-class and more affluent women to keep DV victimization hidden.
4. Insecurity: actually, insecurity and domestic violence are a vicious circle in which an abuser batters because he feels insecure. But the more he batters the more he knows the woman wants away from him and the more insecure he feels.
These scenarios are just four reasons from hundreds that cause someone to experience domestic violence in their lifetime. To have a life and society without violence it is always good to start with ourselves. We just need to look into ourselves and the people around us, listen to stories with our hearts, maybe find a common emotion or experience with the storyteller, and be aware that to have a good solution for DV, we need to go to its roots, dig it up and take care of it. All of this can be possible if we are all aware of domestic violence. It is never too late. So let's start now and share our stories about the scars that domestic violence has left on our bodies, skin or hearts.
Hamed Yaghoubzadeh is a technologist who has been working as a business analyst and in IT infrastructure for 10 years. Hamed moved to Norway in 2011 to get his Master's degree in Peace and Conflict Transformation. During his Master's program, he volunteered for Amnesty International and was a member of the UN-Middle East Student partnership. After moving to the U.S., he got his Master's degree in Information System Management from the business school at Santa Clara University. Following his passion in women's rights and human rights, he has been writing and translating for some projects at non-profit organizations working to help and empower women, especially from the Middle East and South Asia.
Jaskaran Singh
I completely agree that violence against women is a human rights issue, and there is no reason why someone should doubt it. Violence against women is an issue occurring worldwide, and unfortunately in some cultures, it is more normalized and even socially accepted.
Those who commit violence against women usually fail to see women as human beings, they see them as their property. If gender abuse or inequality is normalized in a culture then it becomes a belief and a way of life and is passed on to the next generations. To prevent this "culture" from progressing, we definitely need to teach younger generations to not follow in the same paths as previous generations have. Individuals need to open their eyes and see everyone as equal, no matter gender, race, or skin color.
I believe that a huge onus is on men and boys to change the culture that instigates gender abuse. Men for the most part, are the ones who commit abuse or violence against women. So, it is their duty to spread awareness, educate, and eventually end this heinous crime. Men can help by spreading awareness as well as making sure that they themselves are not engaging in abuse.
Abuse against women is prevalent everywhere in the world, in different forms, and action needs to be taken to end this. There have been numerous incidents of attacks on women, who simply said "no" to a proposal from a male. We watch or read news almost on a daily basis, of acid attacks, rapes or homicide cases where a girl refused a marriage proposal or something trivial; this is extremely sad and frustrating. It is high time we start talking about the issue and do something about it.
Jaskaran Singh, a 1st year student at the Sierra College. He lives in Sacramento, California.
Jason Fong
Domestic violence is a frightening concept, not just because it affects so many people, but because it pushes an unstable and irrational emotion like love to its limit. Emotions can get in the way of our better judgement, leading some people to forgive the violent crimes of their partners purely out of love. Often, the victim has no choice but to stay with the perpetrators. The conditions that trap a person in an abusive relationship is what makes domestic violence or intimate partner violence so difficult to stop.
Like with most issues, we must stop domestic violence at its roots. That is more easily said than done. However, when a community works together to fight this injustice, we can do much more. Although men can be victims of domestic violence, most reported domestic abuse cases are about men abusing women. Therefore, it is important to teach boys from a young age not to lash out at others. It is important for boys to learn to respect girls and they must understand the value of consent. Additionally, we should work harder to make it more acceptable for victims to speak out, whether they be male or female, and end stigma once and for all. Students of all people have power to bring the change, let's pledge that we won't be bystander if we see relationship abuse or violence against women around us. We will believe and support victims
Jason Fong is a senior at Irvington High School. He loves spending time with his friends and participating in any manner of game or activity, particularly Yu-Gi-Oh!
Jason Gill
Masculine and the feminine polarities are best understood in relationship to one another. Between and because of these two energies, the diversity of humanity exists. Like all energy, masculine energy can become toxic and destructive if left uncontrolled, unrestrained, and unbridled.
As an Assistant District Attorney, I have personally seen the destructive effects of toxic masculinity impact the lives of families, communities, children, and the accused. Whether it is in the context of domestic violence or sexual assault, or the glorification of criminal street gangs with images of young men surrounding themselves with money, guns, respect, and women, or whether it is a road rage incident or the proverbial "bar brawl" – toxic masculinity is the structure of thinking that perpetuates many of these societal ills.
Not all masculinity is toxic. I have also witnessed the positive side of masculinity. Those fathers, brothers, and sons who, with patience, dignity, professionalism, and compassion, stand behind their daughters, mothers, sisters, and significant others as they go through the trauma of being a victim of crime and navigate their way through the court system to attain justice are examples of positive masculinity. Men who take responsibility for their communities, evoking change in a positive way for the betterment of their neighborhoods, their social groups, and their overall communities are positively expressing masculinity through stewardship. Men who take responsibility in providing their children with strong emotional support, and a strong moral foundation with the values of good judgment over violence, misogyny, and aggressive sexuality, demonstrate positive masculinity in fatherhood.
While sexual harassment laws that are aimed at eradicating violence against women are a great leap forward in combatting the evils of toxic masculinity, my experience shows that laws are not enough to end the ill effects of toxic masculinity. The change must begin in the minds of men. Study after study has shown that the socialization of masculine ideals begins with our male children at an early age. Young boys are taught to be tough, stoic, heterosexual, and self-reliant (Wall & Kristjanson, 2005). Children are taught these ideals with a lack of discernment or context. To further expand the problem, mass culture and the media reinforce these stereotypes in movies, music, imagery, and marketing, thus perpetuating the cycle (Katz, J., 2011. Advertising and the Construction of Violent White Masculinity: From BMWs to Bud Light. In: G. Dines and J. M. Humez, eds. 2011. Gender, Race and Class in Media. Thousand Oaks: Sage Publications). Even certain vehicles are designed with "aggressive lines" or angles in their framework to appeal to the toxic, aggressively aesthetic side of masculine energy (On Men and Cars, An Ethnographic Study of Gendered, Risky, and Dangerous Relations, Dag Balkmar, 2012 ). It is no wonder that this subtle influence of toxic masculine energy heightens the potential for boys to engage in general acts of violence including, but not limited to, bullying, assault, and/or physical and verbal aggression (Feder, Levant, & Dean, 2010; American Psychological Association, Harmful Masculinity and Violence, September 2018).
The solution to toxic masculinity is for men to acknowledge its existence and to not simply dismiss it as political rhetoric. It is a basic truth embedded in the history of humanity that toxic masculine energy, left uncontrolled, unchecked, and unbridled, has had and will continue to have vast far reaching implications, if we do not become aware of its potential to cause harm. The solutions are raising awareness, committing to focus on the positive qualities of masculinity, and abandoning those aspects that no longer serve the interests of one's life, one's family, one's community, and our society collectively.
Jason Gill is the Assistant District Attorney of County of Santa Cruz.
Joshua Tran
It is high time we should create a culture where women and girls are valued and feel safe. We should construct an inclusive atmosphere in which gender is equalized and self-identity is encouraged. We can create this environment by educating people about different cultures and issues and by eliminating hate and prejudices.
Men should promote healthy manhood by rejecting society's absurd definition of manhood. Societal norm should allow people to be themselves without feeling the pressure of fitting into a specific image. I try to be more mindful in projecting my language and action to create an inclusive space where the inhumane separation of men and women is nonexistent.
Universities should take the issue of violence against women very seriously. Many times we see rape culture is normalized in College campuses and perpetrators are not punished. The Brock Turner case, in which Turner (a Stanford student) raped a woman, is a good example where judicial system failed to serve justice. The lack of actions taken in our Universities across America against rape and sexual assault is frustrating because justice is missing in our Court systems. I believe we need stronger laws and a system in our Universities to prevent sexual assault, we need to create a safe environment for all students. Rapists should be held accountable for their actions and we must protest against unfair treatment in such cases. We have to start a dialogue to recognize different forms of violence against women and we must act on preventing it.
Joshua Tran is a second year college student. He lives in the Bay Area.
Judge Leonard Edwards
Reducing family violence is an important social goal. Family violence takes many forms and affects all members of the family. Both wives and children are frequently physically and sexually abused and subjected to emotional abuse and neglect, while other relatives and household members, particularly elders, are also at risk of being victims of such conduct. Violence within the family cuts across all lines, including race, class, age, sex, handicaps, sexual orientation, and socioeconomic status. Family violence results in numerous social ills. Most important, it threatens the stability of the family and imprints upon all members of the family, especially children, that violent behavior is acceptable. As the Attorney General's report on Family Violence concluded: Violence in the home strikes at the heart of our society. Children who are abused or who live in homes where parents are battered carry the terrible lessons of violence with them into adulthood…To tolerate family violence is to allow the seeds of violence to be sown into the next generation.
Family violence occurs with alarming frequency in the United States. While it is estimated that one-third to one-half of all women in this country will be in a violent relationship during their lifetime, and the Federal Bureau of Investigation reports that a woman is beaten by her husband or boyfriend every 12 seconds, the FBI also concludes that family violence is under reported by a factor greater than ten to one.
Of the 1.5 million reported cases of child abuse and neglect each year, and the estimated 1.8 million women beaten in their homes each year, studies indicate that there is a co-incidence of approximately 810,000 families with both spousal and child abuse. Pregnancy appears to be a particularly hazardous time for women. 30% of all pregnant women are battered. These women are two times more likely to miscarry and four times more likely to have low birthweight babies than the norm. Shockingly more babies are born with birth defects as a result of the mother's being battered than a combination of all diseases and illnesses for which we now immunize pregnant women.
Children who witness abuse are dramatically affected. They are more likely to attempt suicide, to abuse drugs and alcohol, to run away from home, to engage in teenage prostitution and other delinquent behavior, and to commit sexual assault crimes.
Other household members suffer from family violence. Approximately one million incidents of elder abuse occur annually in the United States. Partners in gay male and lesbian relationships also suffer from violence in the home.
Violent behavior in the family is illegal conduct in all states, but the legal proscription has not reduced, much less ended, this behavior. There are several explanations for this failure to reduce the incidence of family violence. First, our society, and in particular, our legal system, has been ambivalent about intervention after family violence has occurred. On the one hand the behavior is illegal, but on the other, it involves people with continuing ties who one day may have a seemingly satisfactory relationship. Intervention becomes more difficult when the victim is reluctant to pursue the matter. Decision-makers in the justice system sometimes conclude that family violence is not "real" criminal behavior, but that it is a family matter in which no action is necessary.
Second, the complex justice system has not been refined to deal with the special problems presented in family violence cases. These problems can occur at many junctures. Law enforcement may not have effective arrest or restraining order enforcement policies; district attorney offices may not have the most efficient system for screening and prosecuting cases, and the courts may not have an effective system for issuing protective orders, for supporting victims as their cases move through the court system, for identifying family violence in other legal proceedings, or for monitoring offenders after judgment has been rendered. In addition, probation services and victim's programs may be ineffective in ensuring that the victim receives necessary support and that the batterer receives an effective program which will address the battering behavior. All the persons and agencies which are supposed to carry out the goals of the legal system including battered women's shelters may have such inadequate resources and training and insufficient expertise in these cases that they are unsuccessful in completing their tasks.
As a former judge who handled hundreds of cases involving domestic and family violence, it was obvious to me that the community needed to work together to end violence in the home. Family violence is endemic in our population. Women and children are the usual, though not the exclusive victims. Batterers use violence because it gives them power and control over others. But violence is a learned behavior. The learning process can be reversed. The steps necessary to assist victim to come forward and ask for help, to inform batterers that their behavior is unacceptable, and to monitor batterers so that they make changes in their behavior are complex. Yet working together we can reduce family violence in our community. It is a challenge we must accept.
Judge Leonard Edwards is a retired judge now serving as a consultant and educator. Judge Edwards was a Superior Court judge for 26 years, retiring in 2006. He served as Judge-In-Residence with the California Judicial Council for 6 years. Judge Edwards is a judicial educator having given over 500 invited presentations in 47 states and 13 foreign countries. He is a past president of the NCJFCJ. In Santa Clara County he founded the Child Advocate Program, the Domestic Violence Council, Kids in Common, and the Dependency Drug Treatment Court. His publications can be seen on his website – judgeleonardedwards.com
Karthik
If you see something, say something!
Domestic violence is a grave violation of human rights. The focus however needs to be on women as they are impacted more. Acts ranging from physical and sexual abuse to emotional and economic abuse are committed by the rich and the poor alike across various countries. It exists across all strata of our society. As the issue is domestic and committed by a person you (used to) trust, it is a vicious cycle and requires more courage to break free of. Societal norms regarding abuse in certain countries can make women feel that it is a way of life.
I would like to believe that no one takes pride or glorifies domestic violence, sexual assault or violence against women, but that would be naive. I think any person with some sense of empathy would not commit such vile acts. We live in a digital age where sharing information and raising awareness has been easier. As more people lend their voices in speaking up against domestic violence and sexual assault; more victims will find the courage needed to stand up against it. Governments need to get rid of antiquated laws from a bygone era where women were considered the property of men. Marital rape is still legal in many countries including India. Rape of any kind should be a criminal offense. More thought should be put into passing laws that will make it easier for victims to speak up and get justice. Many experts believe that kids raised in an abusive home learn that violence is an effective way to resolve conflicts and problems. As a long term path for a better society, we should be educating and setting better examples for our children.
While mainstream media is definitely improving, it still often portrays women as accommodating and having a need to seek and please men; while men are portrayed to be dominating and often view women as sexual objects. As men, we can choose to not consume this ancient narrative and refuse to support the culture that glorifies violence against women in movies, music etc. Men should also be more supportive of their partners and encourage their friends and colleagues to be the same way. Not all domestic violence involves battery. If your colleague casually shames his partner or is disrespectful towards her; it could still be indicative of a much larger problem. Gas lighting can start in a harmless manner but can emotionally cripple one's partner. Recognizing such behavior early on would help in prevention and bring awareness in our community. If you see something, say something.
Karthik lives in Seattle and is a software engineer by profession. He is a swimmer by heart and loves all things anime!
Lakhbir Singh
Violence against women is a human right issue because women are human. I have witnessed various acts of discrimination against women. In many cases women do work, but the household income is under the man's control, which increases male dominance. The advances in technology pertaining to sex selection has increased the occurrence of female infanticide. Other forms of violence against women are prevalent too. We must transmute our culture by promoting education and awareness about social issues in our communities. If women are educated about their rights and are provided with a safer environment, they will be able to voice their experiences in the face of discrimination and abuse. We need to ensure more safety in colleges and work places for women and prevent sexual harassment. Many families are worried to send their daughters to colleges in fear of sexual harassment and assault within these campuses.
Most of the times rape victims don't get the justice they deserve. I read a news article about a nun raped numerous times by the Head of the church for over two years. Although the nun filed a report and verbally expressed the abuse, her voice was not heard. If that can happen to a nun, it can happen to any woman. Many times rape victims are asked irrelevant questions and they face victim blaming and shaming. Men and women both should work in partnership to change the attitude that instigate injustice against women and girls.
Men can do several things to prevent gender abuse. First and foremost, they should start talking about these issues. Society should encourage girls to learn physical and emotional self-defense, and educate boys to support the women in their lives in whatever way possible. Kids at an early age should learn about the equality of sexes and mutual support instead of being sheltered from these ideas. This will allow a smooth functioning in society where everyone is given the respect they deserve.
Lakhbir Singh is the owner of multiple businesses. Founder of Radio Chardi Kala. Mr. Singh enjoys reading and doing talk shows at his radio station regarding different social issues around the world.
Maikel Masoud
As someone who has lived in a country where domestic violence is not only common, but in fact usually unnoticed, I have certain perspectives on the issue myself. Domestic violence is a very under looked matter that occurs very often in the status quo, and it should not be disregarded.
The culture we raise our children in is one that can be altered to prevent cases of domestic violence in the future. I firmly believe in the importance of providing the next generation of people with knowledge about social subjects such as this one. Parents and guardians must instill values in their children in such a manner that they grow up to understand that it is forbidden to lay their hands violently on another person. Additionally, parents should be responsible enough to not violate the morals that they demonstrate to their children, such as this one. They should be there to set examples.
I have had past experience with false accusations, which has also led me to believe that allegations should not be supported just because one party says that they are a victim. Cases as serious as these should be looked into more and both genders should be given equal rights. Many people are able to take advantage of the American democracy even when their words may be immoral. The severe consequences of this should be presented to children at an age at which they will understand them, but should be presented at a young age.
Personally, I would like to see a change in our society in terms of domestic violence. I suggest the implementation of classes in the education system. A basic human rights class for children in preschool all the way till young adults in high school would be beneficial and efficient for the learning of this matter. In addition to this, I believe that national awareness plays an important role in reducing the number of domestic violence cases our world experiences today.
As a victim of marriage fraud, and a man who has lived in a third world country as well as in the United States, I have experienced many life changing events that have shaped my views into what they are today.
Maikel Masoud is an Egyptian immigrant, and he came to the United States nine years ago. He is currently attending Diablo Valley College in Pleasant Hill, California to get a degree in electro-mechanical engineering. He currently works for C2 Education as a mathematics and physics tutor.
Mehdi Ali
Despite the growing awareness in today's society regarding the issues of sexual abuse in the workplace with the #MeToo movement, the issue of domestic violence still remains largely overlooked. This is astonishing, especially considering the huge portion of the population that it affects.
Too often, we view domestic violence as just a women's issue. This is clearly not the case as men, women, youth, and elderly of all racial and cultural groups are affected. Domestic violence is a tragic occurrence that can directly and indirectly affect all community members. So, if we want to solve this problem, everyone must get involved.
Domestic violence is not just physical abuse, it can involve psychological, sexual, financial, emotional, and other forms of abuse and coercion, possibly with even worse effects. This makes the issue of domestic violence even more difficult to identify. To end this problem, first we must acknowledge that intimate partner violence or family violence is prevalent in all communities and we must do something to prevent it. Both men and women should do their best to end it wherever and however they can. As most domestic violence victims are women, it becomes important for us to identify and address social and cultural norms that normalize violence against women. It is important for all of us to learn warning signs of domestic violence to protect ourselves and people around us. Often times, victims do not know who to reach out to if they are being abused. We should all strive to be supportive and make it clear to our friends and family that they can tell us anything. We must take great care not to stigmatize those who face partner abuse or family violence. We must change the culture of victim blaming. Lastly, we can help by volunteering our time or donating to nonprofit organizations like Maitri that helps survivors of domestic violence and abuse.
Mehdi Ali is a senior at Irvington High School. He was born in New Jersey, but moved to the Bay Area in 2010. In his free time, he loves to read books and spending time with friends and family.
Nick Mehta
Fellow men, our silence reinforces the cycle of violence.
There is so much that men can do to make the world safer for women - and a lot of it is around how men act around each other. Instead of laughing at your friend's inappropriate joke about women and defending him by saying "he's just joking," consider asking your friend, "I don't get it - why is that funny?"
Rather than politely listening to friends wondering whether #MeToo is overdone and asking "what about the guys," be the voice talking about the millions of women whose stories were never told - and about the countless still suppressed. Instead of engaging in a discussion about "what if she's making it up", consider a different dialog about "what if she who spoke up represents hundreds more whose voices are silenced.
Fellow men, our silence reinforces the cycle of violence.
Nick Mehta, CEO of Gainsight and ardent feminist
Mohammed Riaz
Girls and women in general are abused at every level of their lives, in school, college, or at work. A lot of times they are oppressed or abused by their own family members. It is high time we think about how to change the status quo.
I think parents have to play a big role in prevention of gender violence and abuse- when boys insult girls or make derogatory remarks, instead of taking it lightly, parents should tell their sons that it is not acceptable. In dating and relationships, when boys insult or abuse their intimate partners, their parents, teachers and friends who witness the behavior should step in and protest this abusive behavior. It is our collective responsibility to show the abusers their fault, instead of shoving it under the rug. In my opinion, when abused women are helped to get out of their abusive situation, they should not go back to their abusers; that is the worst mistake a woman can make since it can have dire consequences by encouraging the perpetrator to continue their behavior.
I believe men have huge responsibility to stop violence against women. If a man is insulting or abusing a woman, other men should step in and protest that abuse openly, otherwise they are as bad as the abuser. Men should acknowledge that violence against women is not a women's issue, it is a human right issue.
I have a friend who got beaten up by her boyfriend and she was left alone on her driveway to die. A neighbor found her and called 911. I helped her at that time, but later she not only took the police complaint back, she also went right back to her abusive partner and the abuse started again. Many times women think that it is their fault that the abuse is happening and that they should go back to their abuser. Our community should make women strong enough so that they don't go back to their abusive partners. We should also definitely teach our boys not to abuse women! But most importantly, we need to be good role models for our next generations and lead by example.
Mohammed Riaz is a professional bus driver and former Vice President for a local mosque for 9 years. He is a board member of another nonprofit organization and a profound believer of gender equality.
Rishi Kumar
Emma Watson once opined that it is impossible to "effect change in the world when only half of it is invited or feels welcome to participate in the conversation." This reflects the reality that sexual harassment and domestic violence is not only an issue that affects a woman or a family. It is a cancer that affects an entire community. One must only look to the #MeToo movement that has swept across every sector and division of public life imaginable: politics, Hollywood, business, the tech industry, and more.
The attitudes that drive harassment reduce women to mere objects that can be tossed around conveniently, and denying them the respect that is due. When we allow women to be oppressed, we deny them their humanity and their most fundamental rights as people. These attitudes and behavior patterns can be passed onto the next generation tragically, and can also prevent women from reaching their true potential in contributing ideas to our economy and public discourse, which leaves a compromised society that is falling short of true progress. The norms and attitudes that lead men to beat or harass women are not just "bad", they are poisonous, despicable and cancerous to harmony in a civilization. Many thriving civilizations of the world were known to take great care and respect for the women of that era.
But even such a consequential issue can be combated and debated by individual men, finding enough excuses for justification for such violent behavior. Recognizing a problem is half way to finding a solution. We all have power and the ability to make change happen. We must together stop such conduct, in our neighborhood, our community and our workplace. Domestic violence is not something that we can condemn in the abstract while turning a blind eye to it when difficult to confront or act upon. Each of us has to recognize that it is our responsibility to condemn such happenings around us and seek to overturn such deplorable behavior.
But we cannot just stop there. We also must make sure that we do not find excuses to blame the victims of these horrific events for the reprehensible actions of their harasser. We must set an example for ourselves, our family, our friends, and the next generation: a powerful NO to the maleficent forces that lead someone to commit such a deplorable crime, domestic abuse. This is our responsibility as men and as human beings. A home, a community and society without domestic violence and such abuse becomes one that can only thrive and prosper.
Rishi Kumar serving his city of Saratoga as an elected Councilmember. His political leadership involves being on the board of a few California and national political groups. Rishi works full time as executive leadership in Silicon Valley hi-tech but also involved passionately with a non-profit, initiating STEM and community programs. You can find Rishi via his website www.RishiKumar.com
Ro Khanna
Men must not be silent!
Domestic violence is a universal issue—one affecting people of all races, ethnicities, and genders. However, we cannot ignore the fact that women are disproportionately affected. 1 in 3 women experiences domestic violence in her lifetime, often causing long term physical and mental harm. Men must not be silent about this issue, but instead, use our voices to speak out against it. In Congress, I am committed to protecting women through various legislation like the International Violence Against Women Act and the SAFE at Home Act, but we must also address domestic violence in our individual lives. Even the smallest actions can make a big difference: discourage sexist language and behavior, support and encourage women to seek help when dealing with abuse, lead younger generations by example, and ultimately make it known that domestic violence will not be tolerated. Most importantly, take pride in standing with women because, united, we can end domestic violence and make the world a safer place for all.
Congressman Ro Khanna represents California's 17th Congressional District, located in the heart of Silicon Valley, and is serving in his first term. Rep. Khanna sits on the House Budget and Armed Services committees and is a vice chair of the Congressional Progressive Caucus.
Robert Abousamra
Society views women in a light which engenders stigma of how we treat women. We should create a culture where women and girls feel confident going out in public with the assurance that they will not be ridiculed or harassed. This change begins with the future generation by educating them about issues facing women, instead of normalizing the degrading behavior against them. In doing that first we need to promote healthy manhood by educating young men on how to treat women with respect, in which women and girls are not viewed as objects. Today, mostly we connect manhood with being emotionless, firm, domineering and super masculine, we forget that the true meaning of manhood is to be a good human being. It is important to reclaim the definition of manhood, it is necessary to develop a future where adolescent men honor women and live by the true definition of manhood.
The recent traumatic rape incidents targeting Rohingya Muslim women make me think about how far behind our world is in developing women's rights. Myanmar's troops brutally raped many Rohingya women to destroy Rohingya communities. Raping women and girls in wartimes and time of conflicts is a common tactic of showing power and control, which is happening at various places in this modern era. Violence against women in various forms are taking place all over the world at wartime as well as at time of peace. Unless, men take this issue seriously and do something about it, it will keep happening. As time passes, I hope to see a future where women and girls do not have to face such trauma. In bringing that future, men should educate young boys about the negative consequence of gender disparity and abuse. Men and boys should work seriously in ending toxic masculinity and violence against women.
Robert Abousamra is a student at De Anza College based in Cupertino, California.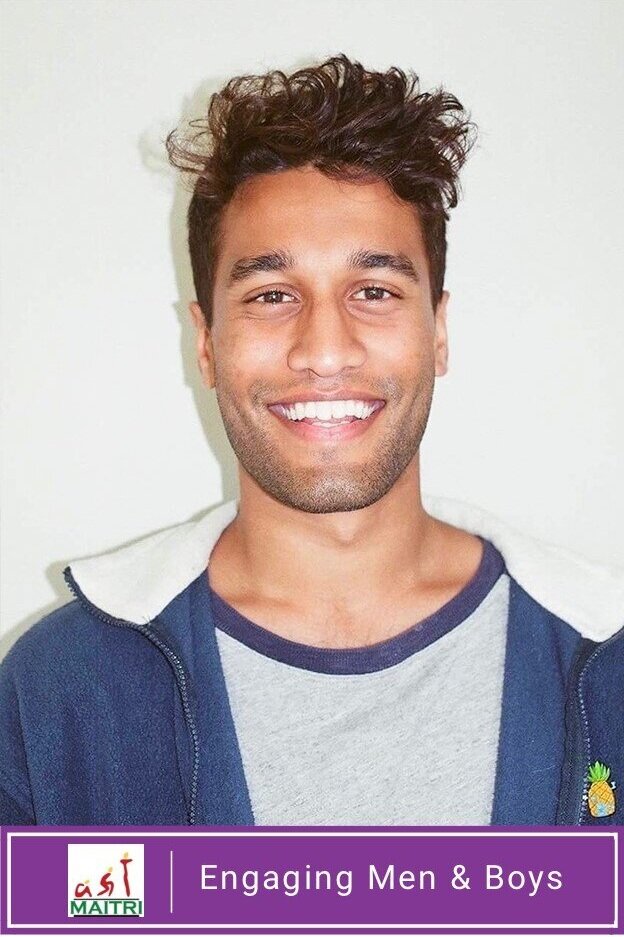 Sandeep Lankireddy
Domestic violence and gender inequality are very important topics to discuss openly in today's world but sadly these topics are often considered taboo or shameful, especially in a culture that, traditionally, seems to place more rules and regulations for women. We must know that gender inequality fosters an unsafe environment for women and girls and that hinders the entire societal development. I believe that men should become more involved in working to reverse these conditions. Men can play a crucial role as family members, friends, policy makers, and community leaders, in preventing violence against women and ensuring that priority attention is given to the issue. Men can help by supporting organizations like Maitri, advocating for the proper legislation to prevent violence against women, and supporting and believing victims of abuse. We must acknowledge that violence against women is not a women issue, men too should take part in ending it.
I think Maitri's goal is incredible—it is very important to provide an accessible resource for South Asian families living in America, whom I often notice are most comfortable searching for help from others who speak their language and understand the traditions and values by which they live their lives. I commend Maitri's endeavors in engaging men to end violence against women and wish them success.
Sandeep Lankireddy, a 21-year-old Indian American living in California. He will be entering Western University of Health Sciences this upcoming fall to be a physician.
Steve Baron
I just was visiting with my 16 year old grandson and met his girlfriend. I later just reminded him to be very good to her. I had previously talked with him several times about how men should treat everyone, but particularly women - with respect and kindness. I also encouraged him to never stand by when he saw anyone, especially women or children, being mistreated physically or emotionally without trying to intervene in some kind of safe and constructive manner. By the way, I have given a different version of the same message to my 8 year old grandson several times already, with the suggestion for intervention and getting help limited to dealing with any bullying he sees of children around his age. The earlier the better. But talk is cheap, because children are more likely to do what they see their parents and role models do than what they say to do. So it's more important how they actually see me treating everyone, particularly women and children, than what I say about it.
It's also important for us to let children know that if they are getting bullied or abused, to tell someone they trust and get help, and not just try to deal with it on their own. And if the first person they approach for help doesn't believe or help them, to find someone else they trust and keep telling until someone helps. Secrecy breeds and enables abuse.
Earlier this year, in my role on the Child Abuse Prevention Council, I wrote an op-ed piece for the San Jose Mercury News in which I said that surrounding children with "healthy relationships" (parenting, partner, family, teacher, coach, pastoral, etc.) throughout their entire childhood serves not only to prevent child abuse and neglect while also enhancing healthy childhood development and resiliency, it also provides long term prevention of domestic, family, school, and criminal violence.
So, what are "healthy relationships?" The child doing the voiceover in a Santa Clara Child Abuse Prevention Council PSA available at https://www.sccgov.org/sites/cac/Pages/cac.aspx defines them very simply as being "…emotionally and physically safe, respectful, caring, and never, ever, violent or abusive," because, the child adds, "violence always hurts us.…" How does it hurt children and their long term healthy development? Check out the California Attorney General's 15 minute video "First Impressions: Exposure to Violence and a Child's Developing Brain" available on You Tube at https://www.youtube.com/watch?v=c1mnVfnBTQM.
Neuroscience and research findings such as those provided by the Adverse Childhood Experiences Study out of Kaiser Permanente and the CDC, and hundreds of others, demonstrate that providing children with healthy, respectful, caring, supportive, violence-and-abuse-free relationships at home, school, and in between dramatically raises the odds of their experiencing emotional, behavioral, cognitive, social, and physical health throughout their childhood and adulthood. And it greatly reduces the likelihood of children growing up to be violent in intimate partner and dating relationships and otherwise. Children raised in an environment of healthy relationships are far more likely to be "resilient" and more capable of surviving the inevitable knock downs and losses of life, getting back up, recovering, and going on to lead full, constructive and meaningful lives.
Do you want to prevent violence? The World Health Organization says that actions that help to prevent domestic violence include: the absence of attitudes accepting of violence; creating a climate of non-tolerance and accountability for intimate partner violence and child abuse; enhancing gender equality and the empowerment of women, and; reducing poverty. So, surrounding children with healthy relationships, reducing poverty, providing early identification and effective intervention for victims of abuse, neglect, mental illness, and serious trauma, together with keeping guns out of the hands of those whose behavior signals serious instability or threat, will take care of the bulk of it.
"But wait!" some of you say. "You raise kids to be too nice, caring, and empathetic and you're going to be raising a bunch of naïve and vulnerable individuals just waiting to be taken advantage of and victimized by those who think empathy is to be used solely for the purpose of manipulation, exploitation and domination." Hmm, a valid concern, unless we also understand that treating people with respect, understanding, and empathy is, in fact, totally compatible with also possessing a healthy degree of vigilance, learning the warning signs of predators, abusers, and con people, setting and enforcing healthy boundaries, being appropriately assertive, refusing to tolerate abusive behavior, defending oneself and others when necessary, and pursuing healthy self- interest without exploiting others. We have to model and teach the whole package.
So, like the child says at the end of the Healthy Relationships PSA available at https://www.sccgov.org/sites/cac/Pages/cac.aspx , "Thanks for listening and understanding.
Steve Baron is retired as the Director of Family Court Services, Superior Court of California, Santa Clara County, also from a private therapy practice, and from Santa Clara University where he taught on the Adjunct Faculty for 28 years on subjects including domestic violence, child abuse, elder abuse, substance abuse, and psychological trauma. He currently sits on the Santa Clara County's Domestic Violence Death Review and Child Death Review Teams, the Child Abuse Prevention Council and Social Services Advisory Commission, and is an occasional volunteer trainer for the Court system and community service providers.
Steven Hicks
Many times it is assumed that domestic violence is "women's issue" but in my mind it is a human right issue. Statistically domestic violence affects mostly women but it has a huge impact on men's lives as well, be it as victim or abuser. There are number of cases where men suffer from domestic violence but don't report the abuse. Also, when men become "the abuser" it creates a dramatic negative effect on their lives too. Whether you are a perpetrator or a victim, domestic violence affects both and brings negative outcome for both.
It is important that men need to be actively involved in preventing domestic violence. Most of the time men are the abusers but they become victims too. While they abuse, or harm others, invariably they harm themselves as well, thus the real long lasting change must come from the male side. There are certainly many things women can do to protect and help themselves, but men have the responsibility to stop hurting women. Much easier to say than to act but we must do it. For a woman, I think it's important to focus on your safety and human dignity. Staying in an abusive relationship can make things worse. The situation can deteriorate until someone gets very seriously injured or dead. It is important to look for resources that can bring safety and stability. No matter what, even if you don't think you can, no matter the status you think you may lose, even if there is love for the abuser, you must think about your safety and dignity first. Nothing will change until then.
Men, especially younger men must understand that violence is not an acceptable way to process one's emotions. It is very important for younger men especially children to have good male role models. Men should know that they are allowed to seek help, especially when the problem is spousal / partner violence.
Indeed, it is more important to solve a problem than just to ignore it until the problem is hard to deal with. Men are supposed to change any behavior if that is hurting someone. We must understand that emotional abuse can cause pain too. Emotional abuse just like physical violence can be as complex, damaging and extraordinarily difficult. It takes many years and many attempts to break the cycle of abuse or to unlearn the abusive behavior.
Believe in yourself, no matter how many mistakes are made keep moving forward to change the situation for good. You'll get there if you don't give up.
My name is Steven Hicks. I'm on the older side of things, in my forties very much old enough to be a grandfather, and in my short life I've had several lifetimes of experiences both good and bad.
Suraj Moorthy
In my opinion violence against women is indubitably a human right issue, because women as members of our society are ought to be respected and treated as same as their male counterparts — this is a basic individual human right! Also, there have been lots of studies that show, a society can only thrive if women in that society are given respect and appropriate status. Thus, even with a societal or group-based perspective, women should be treated with human dignity and equality.
There are multiple things we should do to boost gender equality and prevent gender violence in our community. One important thing is to educate men and boys that violence should not be a channel to display their power. I think raising awareness against and stigmatizing violence against women will help reduce the rates of such violence. Research findings show that the volume of violence against women in a community is always correlated with the acceptance of it amongst the community members. To bring a solution to prevent gender violence men need to work actively with women as a group. We, men need to start a larger conversation with our peers on creating a culture where violence against women should be seen as a sign of weakness. Furthermore, we need to create a safe harbor where women feel comfortable sharing their experiences of abuse with us.
Suraj Moorthy is an Oncology Analytics & Insights Lead. He enjoys planting various types of roses in his home garden. He loves spending time with his young son, and cooking with his family in his free time.
Vijay Raghavan
Many years ago, I had an encounter with an extremely bright, hard-working lady (who happened to be South Asian) in my company. She came into my office with a fearful expression on her face, telling me that she needed to work part-time at home, because she had some urgent personal issues she had to deal with. As her manager, I obviously wanted to help, but didn't want to venture into her personal affairs. So, I told her to work at home part-time if she needed to and asked her if there was something I could do to help her. She burst into tears. She assumed my answer was going to be No, and that her job was in jeopardy. Her husband beat her regularly, she said. She could tolerate that, but what she couldn't tolerate was that he also beat her 5 year old son. She needed to be at home in the afternoons to make sure that her son was protected from her husband. Even as she told me the horrifying details of her personal life, she was coming up with excuses for her husband: "When he's not beating me or my son up, he's actually a nice guy." I probably looked incredulous, so she hastily added – "It's not entirely his fault. He has anger management problems, and he needs therapy. He doesn't really mean to hurt me or my son." Prior to that encounter, I didn't know enough about abuse to understand that this is a classic pattern. The spouse gets abused (invariably, the husband abuses the wife of course), and the wife lives in mortal fear of her husband but is either scared to leave him because of societal pressures, family pressures, and financial pressures or, manages to convince herself that her husband actually means well, and he can't help having the occasional bad day. It's a form of "gaslighting" oneself, into believing that the problem may not be the husband, and that the problem may to some extent be herself, the wife!
I did what I could in that situation to help my employee, of course. As her manager, I gave her the flexibility that she needed. And I pointed her to some company resources (the employee hotline) where she could confidentially seek employee assistance, because she wasn't aware that those resources were available to her. But I couldn't help feeling that that wasn't enough, and wishing that there was more I could do. At the time, I didn't even know to point her to a resource outside the company (like Maitri), so she could get the confidence that she sorely needed, and which she was clearly lacking.
There's a lot of education that's needed on so many fronts. Educating young men so they don't objectify women, certainly. Educating young women so they know what not to tolerate from men, and how to seek help. Educating battered spouses so they know that they have options, and don't have to be stuck in an abusive relationship. And what I learned from my personal experience many years ago is that people, including managers, have to recognize these signs at work and do what they can to help. It's not just about allowing someone to work part-time. I don't quite know what made me ask her the question: "Is there anything I can do to help?" but my asking her that question caused the floodgates to open, and caused her to share some personal details that I otherwise would not have been aware of. Sometimes it's OK to not keep it "strictly business", and to respectfully ask that solicitous extra question to ensure your employee's well-being.
Vijay Raghavan is a technology executive at a company in Atlanta, where he lives with his wife and son; and occasionally, his daughter lives with him as well (when she's not in her dorm at Georgia Tech). When he isn't managing technology, he spends most of his time with his family, but dreams about spending more time one of these days on his passions of reading his favorite books and playing the guitar.
Vikram Bellamkonda
I feel most of the time when we talk about domestic abuse and violence, we think of a female victim and a male perpetrator. Since women are victims in most of the domestic violence cases we automatically internalize that men are abusive. However, I think it's important to realize that domestic abuse can definitely happen from both sides and not all men are abusive. Although many men are consciously making effort to raise awareness to stop violence against women, we cannot ignore the fact that statistics have been consistent in reporting that men commit more domestic violence than women. Men must acknowledge the fact and do something toward prevention. I believe men have to engage actively in raising awareness. Only doing so men can start making a better future and help in lowering chances of domestic abuse drastically.
We also forget that abuse doesn't always have to be physical. Emotional and mental abuse are probably a lot more common these days in intimate partner relationship. A partner can constantly manipulate the situation in a way that selfishly benefits the abusive partner. Words hurt as much as a bruise, yet they can't be seen. As a society, we need to be aware that if someone feels abused and even if they cannot show any physical injury, we must take their fear seriously. Emotional abuse can have same impact as physical abuse.
Domestic violence shouldn't be seen as a women issue, it is important men talk about this serious community issue and do something to prevent it.
Vikram Bellamkonda is currently a second-year undergraduate student at Cal Poly SLO. He was born and raised in Santa Clara, California.
Vinodh
Speak up against casual sexism!
Domestic violence is definitely a human rights issue- it globally affects people regardless of age or gender, however it is more prevalent with women and we should take a solid concerted effort to mitigate domestic violence and abuse. I think men that are brought up with a very orthodox outlook end up taking out their frustrations on their spouses more often than not, and force them to succumb to their shows of power.
There are several cultural influences that shape the ideas and thoughts of people. Growing up in India, we are taught that boys and girls should not interact, there are separate corridors and hallways for gender segregation, in school and college buses, boys and girls sit on different sides- all this perpetuates the stereotype that men and women are different. This negativity makes men think that women are to be treated differently. In movies, which are a big deal in India, the heroes glorify stalking - they show the heroine to be disinterested in the hero, only to fall for him after he dramatically saves her life and a few song sequences- this leads boys to think that stalking the girl they like is also going to get them somewhere. It seems to portray that eve-teasing is normal and healthy- these normalize the ideas that bring about gender bias and sexism.
As human beings and as men, specifically, we can try and end the bias in the treatment of genders by speaking up against casual sexism. We can ensure a safe work environment without any stigma or stereotype associated with women in the workplace by speaking up when we see something wrong that fits in with the general culture of sexism and inequality.
Vinodh is a software engineer. He loves eating different kinds of food, exploring things and adventures!
Vivek Shah
It is interesting to think about our beginnings. None of us chose when to be born, where to be born, or whom to be born to. From our genetic makeup, to our upbringing to our genders, there are infinite factors that we never have the luxury of choosing at birth. With that in mind, both men and women that begin as beautiful children should always foster love, nurture and compassion to all humanity regardless of one's past or current circumstance and particularly one's gender.
This extends to both men and women caring for one another and supporting those that are suffering. Sadly, violence against women continues today and both men and women should unify to bring awareness and put an end to such treatment. We shall never forget that we were all brought into this world by our mothers who sacrificed so much for us. Women are our mothers, our daughters, our sisters and should be respected, loved and cared for at the highest levels.
Let's all join together to speak up and ensure women that are suffering have a voice, a channel, an outlet and a solution so that they can be free, empowered and fulfilled as every human should have that right. It is our responsibility and duty to ensure every woman may reach her maximum potential.
Vivek Shah is originally from Houston and now lives in San Francisco with his wife and children. Vivek loves anything that involves sports, adventures and learning. He is particularly fascinated by understanding human potential and inspiring those to help reach their maximum potential. He especially loves spending time with his family and particularly his young kids as they seem to be growing up too quickly in his eyes!